Cosmetic breast surgery is performed to enhance the size, shape or appearance of a woman's breasts. Men also undergo surgical breast procedures to correct gynecomastia, a condition that causes excess male breast tissue. At Zinsser Plastic Surgery, we are committed to helping you achieve the best appearance you desire with respect, dignity, and unparalleled patient care.
To learn more about our breast surgery options, please contact board-certified plastic surgeon Dr. John Zinsser today at (804) 464-7615. Zinsser Plastic Surgery serves clients in Richmond, Fredericksburg, and Williamsburg, Virginia.
Breast augmentation utilizes breast implants to increase the size of your breasts, restore breast volume, improve breast asymmetry or achieve a more attractive shape. One of the most popular plastic surgery procedures in the country, breast augmentation also has one of the highest patient satisfaction rates of all surgical cosmetic procedures.
Medically known as a mastopexy, a breast lift provides a youthful and perky lift to your bust by enhancing breast shape, projection and symmetry. Over time, your breasts may lose firmness and begin to droop and sag. A breast lift can restore your breasts so they sit higher on the chest wall and ultimately look firm, plump, rounded and youthful.
If overly large breasts are burdening you with stress, fatigue and physical pain, Dr. Zinsser can relieve your discomfort and emotional distress with breast reduction surgery. Breast reduction can help ease unwanted weight in your chest, giving you more stamina and a better fit in clothing. 
Gynecomastia, a condition responsible for excess male breast tissue, affects many adolescent and middle-aged men. If you are self-conscious about the appearance of your chest, Dr. Zinsser can help you achieve a more masculine look with male breast reduction surgery.
Transgender top surgery can be performed to remove breast tissue to create a masculine physique (FTM top surgery). Breast implants or fat transfer can be performed to achieve a female appearance. (MTF top surgery).
Dr. Zinsser did a wonderful job with my surgery. I couldn't have ask for a better group of people to care for my plastic surgery. I'm very happy with my rhinoplasty.
I am very happy and pleased with Dr. Zinsser. He did a great job and always was very professional. Love the staff. I have and always will refer his clinic to my family and friends.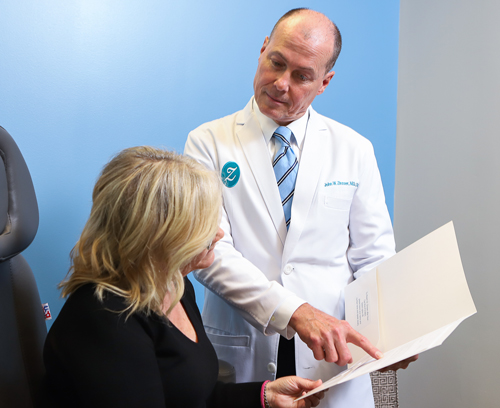 The Results You Desire
The Respect You Deserve
Zinsser Plastic Surgery provides a level of patient care that is unparalleled. We blend compassion, skill and the latest surgical techniques to create a signature experience that is unique in our field.
Dr. John Zinsser believes the keys to providing world-class results lie in a completely individualized approach to patient care. At Zinsser Plastic Surgery, you will be treated as the unique individual you are, and your treatment plan will be customized specifically for you.