CoolPeel CO2 Laser in Richmond, VA with Dr. John Zinsser
For many years, CO2 lasers have been the gold-standard skin resurfacing treatment for addressing wrinkles, age spots, acne scars, and tightening skin. However, they have also been associated with a lengthy recovery time. The versatile new Tetra CO2 laser can perform a broad range of treatments, including the new CoolPeel treatment, which offers dramatic skin resurfacing benefits without the lengthy downtime.
With unparalleled skills, sincere compassion, and consistent, high-quality results, Dr. John Zinsser and the expert staff at Zinsser Plastic Surgery are your choice for the best CoolPeel CO2 laser facial treatment in Richmond, VA.
Restoring your skin's appearance with the best CoolPeel provider in Richmond, VA, is easier than ever! Contact Zinsser Plastic Surgery to schedule your consultation at (804) 474-9805 or complete our online form today.
What Conditions Do CO2 Lasers Treat?
CoolPeel CO2 laser in Richmond can address:
Wrinkles, including fine lines and deep creases
Hyperpigmentation
Acne scars
large pores
Sun damage
Crepey skin
Skin laxity
Undereye circles and bags
Dull skin
During your consultation, Dr. Zinsser and his expert staff will determine which laser settings and treatment options are best for your skin and aesthetic goals. Depending upon your skin's condition and desired results, you may be advised to complete a series of CoolPeel CO2 laser facial treatments spaced 4-6 weeks apart.
What are CoolPeel & Tetra CO2?
Tetra is one of the newest and most advanced CO2 laser technologies. Using the device's multiple settings, Dr. Zinsser and his expert team can better customize skin resurfacing treatments, diminishing the signs of aging for dramatically smoother, brighter, younger-looking skin.
If a deeper, more intensive treatment is desired, the Tetra CO2 platform/settings can be adjusted to remove the top layers of damaged skin tissue to address lines, age spots, scarring, or other textural issues. This also stimulates collagen and elastin production to regenerate tighter, healthier skin. The higher ablative treatment setting does incur slightly more downtime.
Tetra can also deliver a non-ablative, lighter skin refreshing treatment. The CoolPeel is a mild laser treatment that provides a full-fractionated laser treatment without thermal damage to the surrounding tissues, allowing quicker healing. It is designed to be done in a series of 3 treatments with gradually increasing depth settings to achieve maximum results.
While many improvements have been made to limit the side effects of CO2 laser facial treatments, CoolPeel is the only treatment that can produce impressive skin resurfacing results with minimal downtime, 1-2 days, and a decreased risk of hyperpigmentation, demarcation, or infection.
Is CoolPeel CO2 Laser in Richmond Right for Me?
With Tetra CO2 laser technology, Dr. Zinsser and his master aesthetic staff will customize your laser skin treatment to meet your needs. Whether you are looking for an intensive treatment to reduce the appearance of deep lines and wrinkles or you are looking for a lighter laser peel to refresh your skin, the team at Zinsser Plastic Surgery can help you.
After your Richmond, VA CoolPeel laser skin resurfacing procedure, you can expect:
Improved skin texture
Brighter skin appearance
Tighter skin
Diminished appearance of scarring, lines and wrinkles, and sun damage
Am I a Good Candidate for CO2 Laser Treatment with CoolPeel?
Overall, candidates for CoolPeel treatments include patients looking for healthier and younger-looking skin. While CoolPeel laser treatments are typically safe for most skin types and colors, other procedures, such as microneedling or other aesthetic services, may better suit the needs of patients with darker skin tones.
Typically, good candidates for Richmond, VA CoolPeel should:
Be generally healthy
Not be pregnant or breastfeeding
Not currently taking skin-sensitive antibiotics
Not had other laser or chemical peel treatments in the 2 weeks prior
Finished Accutane treatment 6 months prior
Discontinue retinol use
Minimize sun exposure prior to treatment
Have realistic expectations and a positive outlook
Why Choose Zinsser Plastic Surgery as Your Richmond CoolPeel Provider?
Choosing the right provider is one of the most important factors in any successful plastic surgery or non-invasive cosmetic procedure. With over 20 years of extensive training and experience, ABPS board-certified plastic surgeon Dr. John Zinsser and his master aestheticians offer sincere dedication to health, safety, and outstanding results for all patients. This devotion to patient care makes Zinsser Plastic Surgery your choice as the best Richmond, VA CoolPeel CO2 laser provider.
Our main objective is to provide exceptional, individualized care to help patients gain confidence and renewed self-image through plastic surgery. We aim to help you feel comfortable in your own skin. At Zinsser Plastic Surgery, you will never feel pressured. Instead, you will feel comfortable, educated, and empowered to make decisions about your body and procedures.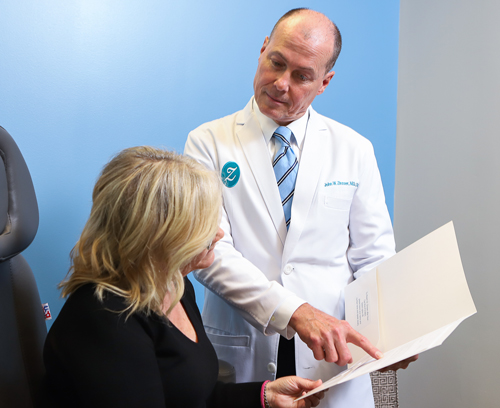 The Results You Desire
The Respect You Deserve
Zinsser Plastic Surgery provides a level of patient care that is unparalleled. We blend compassion, skill and the latest surgical techniques to create a signature experience that is unique in our field.
Dr. John Zinsser believes the keys to providing world-class results lie in a completely individualized approach to patient care. At Zinsser Plastic Surgery, you will be treated as the unique individual you are, and your treatment plan will be customized specifically for you. 
What Can I Expect During a CoolPeel or Tetra CO2 Procedure?
Dr. Zinsser and his expert staff customize every CoolPeel or Tetra CO2 laser treatment in Richmond. Here are some general steps you can expect during the procedure.
After our team has greeted you and checked you in, our laser technician will evaluate you. Our team will ensure you are comfortable before beginning your procedure. You may have a topical numbing agent applied to your skin; it will take approximately 10-15 minutes to activate.
CoolPeel & Tetra CO2 Procedure
Generally, a CoolPeel or Tetra CO2 laser treatment can take anywhere from 15-30 minutes. Treatment time varies based on the areas treated and individual needs. Typically, most patients tolerate the procedure well with minimal discomfort.
CoolPeel & Tetra CO2 Aftercare
The difference between the Tetra CO2 and CoolPeel laser is the different settings used to treat your skin. We will determine the correct settings that will provide you with optimal results.
While the Tetra CO2 ablative treatment typically requires 5-7 days of downtime, the CoolPeel CO2 laser recovery period is approximately 1-3 days. Typically, patients experience mild redness the day after the procedure. You may resume your skincare and makeup regimen 24-48 hours following treatment.
How Soon Will I See My Richmond CoolPeel CO2 Laser Results?
Typically, most patients begin to see improvements in their skin's appearance within 1-2 weeks following a CoolPeel laser skin treatment. However, over 3-6 months following treatment, the appearance of your skin continues to improve gradually. You may require multiple treatments to achieve your desired results.
With any skincare laser treatment, following instructions regarding physical activities, cleansing, and avoiding sun exposure is fundamental to ensuring optimal results from the best CoolPeel CO2 laser resurfacing.
Schedule Your CoolPeel and Tetra CO2 Consultation Today!
Restore your youthful glow by partnering with the best CoolPeel CO2 laser providers in Richmond. At Zinsser Plastic Surgery, you get the natural-looking results you desire with the respect you deserve!
Partner with one of the best CoolPeel providers in the Richmond, Fredericksburg, and Williamsburg areas by contacting Zinsser Plastic Surgery at (804) 474-9805 to schedule your consultation today.
Richmond, VA CoolPeel and Tetra CO2 Procedure FAQs
As skin care laser treatments are highly customizable, the CoolPeel CO2 laser cost is determined by each patient's needs. Dr. Zinsser's team will estimate your CoolPeel CO2 laser cost during your consultation. 
You may be treated with a topical numbing cream for the Tetra CO2,  but CoolPeel CO2 laser procedures are quite well-tolerated with minimal pain. Prior to any skincare laser treatment, address all pain concerns with Dr. Zinsser and his expert team.
The Results You Desire...Today!