Lip Augmentation in Richmond With Dr. John Zinsser
The lips are central to facial beauty. But when aging and stress start taking their toll, the result can be thinning lips, lost shape and volume, and increasing lines around the lips. Lip augmentation is a minimally invasive treatment that can help restore and rejuvenate lips to subtly enhance your appearance for a refreshed, rejuvenated look. 
With unparalleled skills, sincere compassion, and consistent high-quality results, Dr. John Zinsser and the expert staff at Zinsser Plastic Surgery are your top choice as the best lip augmentation providers in Richmond, VA.
Refreshing your lips with the best lip augmentation procedure in Fredericksburg, VA, is easier than ever! Contact Zinsser Plastic Surgery to schedule your consultation at (804) 474-9805 or complete our online form today.
What Can a Lip Augmentation Accomplish?
Lip augmentation is a simple, minimally invasive procedure that uses dermal fillers to enhance your lips' appearance. By restoring lost volume to lips that have thinned, lip augmentation rejuvenates facial balance and reestablishes the shape of the lips, resulting in a plumper, fuller, more youthful-looking contour.
Dr. Zinsser and his team understand subtle choices can enhance each patient's appearance. We help you achieve significant lip enhancement without looking exaggerated. Dr. Zinsser and his team offer the following Juvéderm® fillers for lips:
Juvéderm® Ultra XC

Juvéderm® Volbella

Juvederm Ultra Plus XC
Juvederm Ultra XC
Juverderm Voluma XC
Restylane Defyne
Restylane Lyft
Restylane Refyne
With no downtime, lip augmentation helps enhance the appearance of lips by restoring:
Typically, lip augmentation results last from three to nine months, depending on the product, the amount injected, and your body's response. During your consultation, we evaluate your needs and anatomy to create your personalized plan. We recommend all lip augmentation patients reevaluate and maintain their investment at six-month intervals.
Is a Lip Augmentation Right for Me?
As we age, collagen production slows down and affects our skin, including the lips. Lips that once looked youthful and voluminous can become thin and flat, making you look older and affecting your face's natural balance. Lip augmentation is a simple, minimally invasive treatment that helps restore and rejuvenate lips so you can reclaim youthful balance and volume. Lip augmentation provides a subtle enhancement that restores your appearance and self-esteem. 
Following your lip augmentation procedure in Richmond, you will experience: 
Fuller lips

Tightened skin around the lips

Refreshed, more youthful appearance
With the utmost skills and sincere patient commitment, Dr. Zinsser and his expert staff can help you revitalize your look. No matter your facial transformation aims, Dr. Zinsser and his team take the time to help you achieve them. 
Overall, candidates for lip augmentation include patients who are in excellent mental and physical health and looking to enhance their lips. 
Dr. Zinsser suggests lip augmentation patients in Richmond should:
Be at least 18 years old

Live a healthy lifestyle

Be non-smokers

Not be pregnant or nursing

Have realistic expectations and a positive outlook

Be ready to closely follow pre- and post-procedure instructions
During your consultation, Dr. Zinsser and his expert staff will discuss your goals and concerns, review your medical history, and consider all treatment options. If you are a good candidate for lip augmentation in Richmond, VA, we will develop a procedural plan unique to your aesthetic goals. 
Why Choose Dr. Zinsser as My Richmond, VA, Lip Augmentation Provider?
Choosing the right provider is a critical factor in any successful cosmetic procedure. With over 20 years of extensive training and experience, ABPS board-certified plastic surgeon Dr. John Zinsser and his expert staff offer sincere dedication to patient health, safety, and providing outstanding results. This devotion makes Zinsser Plastic Surgery your choice as the best lip augmentation providers in Williamsburg, VA. 
Our primary objective is to provide exceptional, individualized care to help patients gain confidence and renewed self-image through plastic surgery. We use our expertise to help you feel comfortable in your skin. We want you to feel comfortable, educated, and empowered to make decisions about your body and procedures.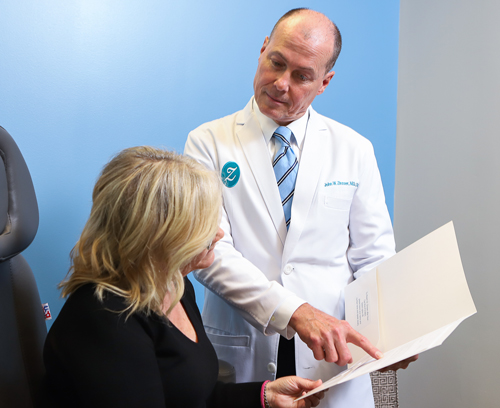 The Results You Desire
The Respect You Deserve
Zinsser Plastic Surgery provides a level of patient care that is unparalleled. We blend compassion, skill and the latest surgical techniques to create a signature experience that is unique in our field.
Dr. John Zinsser believes the keys to providing world-class results lie in a completely individualized approach to patient care. At Zinsser Plastic Surgery, you will be treated as the unique individual you are, and your treatment plan will be customized specifically for you. 
What Can I Expect During a Lip Augmentation Procedure?
Dr. Zinsser and his team customize every lip augmentation in Richmond to meet each patient's needs. Here are some general steps you can expect during the procedure.
After our team greets you and checks you in, we will evaluate you and ensure you are comfortable before beginning your lip augmentation in Richmond. As some fillers contain mild anesthetics, you will not receive anesthesia.
Lip Augmentation Procedure
Generally, lip augmentation procedures are fast and most patients report only minimal discomfort as most products have local anesthetics mixed in with them. We also have topical anesthetics that can make the procedure even more tolerable. The treatment takes approximately 15 to 30 minutes, depending on your needs.
Lip Augmentation Aftercare
As lip augmentation requires minimal downtime, you should be able to return to your daily activities immediately. Side effects may include swelling, redness, tenderness, and bruising at the injection site. These normally subside within two to seven days. 
If you are on any type of aspirin regimen or blood thinners, you can expect to have larger bruises that take longer to fade. Dr. Zinsser may recommend stopping your use of these medications before your lip augmentation procedure.
Schedule Your Lip Augmentation Consultation Today!
Restore your pout and enhance your youthful appearance with the best lip augmentation in Richmond! At Zinsser Plastic Surgery, you get the long-lasting, natural-looking results you desire with the respect you deserve! 
Partner with one of the best lip augmentation providers in the Richmond, Fredericksburg, and Williamsburg areas! Contact Zinsser Plastic Surgery PC at (804) 474-9805 or complete our online form to schedule your lip augmentation consultation today.
The Results You Desire...Today!
Richmond, VA, Lip Augmentation Procedure FAQs