Breast Reduction in Richmond With Dr. John Zinsser
Overly large breasts are often a burden, bringing with them stress, fatigue, and even physical pain. Breast reduction surgery can help relieve the discomfort and emotional distress associated with large breasts. By reducing unwanted weight in your chest, you can have more stamina, look better in clothing, and have a healthier body image. 
With unparalleled skills and sincere compassion, Dr. John Zinsser is a breast reduction surgeon who takes time to understand your needs. Over 20 years of unmatched experience and consistent high-quality results make Dr. Zinsser your choice as the best breast reduction surgeon in Richmond.
Rejuvenating your breasts with the best breast reduction in Fredericksburg, VA, is easier than ever! Contact Zinsser Plastic Surgery to schedule your consultation at (804) 474-9805 or complete our online form today.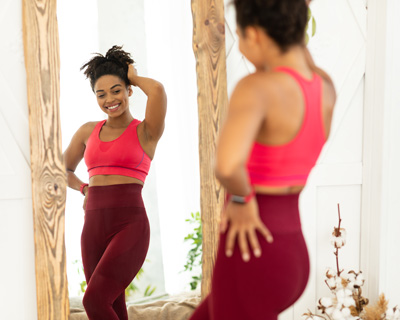 Over 25 years of Experience
Whether treating patients in their 20's or 70's, Dr. Zinsser believes the key to providing world-class results is an individualized approach to patient care.
What Can a Breast Reduction Accomplish?
Breast reduction, or reduction mammaplasty, is a surgical procedure intended to remove fat, glandular tissue, and excess skin to achieve smaller, more proportionately sized breasts. This solution often reduces the discomfort typically associated with excessively large breasts.
Patients with heavy breasts may experience pain and physical discomfort resulting from the excess weight. Large breasts make activities like strenuous exercise quite challenging. Some patients may also experience self-image issues or significant emotional distress due to their pendulous breasts.
With more than 20 years of experience, Dr. Zinsser takes time to understand your aesthetic goals to deliver results that are beautifully natural and proportionate, offering various benefits.
Reduced neck, shoulder, and back pain

Increased energy and stamina

Less irritation and chafing under bra straps

Increased self-confidence

Reduced breast sagging

Improved fit in clothing
Watch: Can Breasts Grow Back After Reduction?
Overall, breast reduction surgery candidates include patients who are seeking smaller, perkier-looking breasts. 
Dr. Zinsser suggests breast reduction candidates should:
Is Breast Reduction Right for Me?
Overly large breasts can cause discomfort and hinder physical activity. The emotional issues experienced by women with excessively large breasts can be as impactful as the physical symptoms. Large breasts can cause a negative self-image and emotional distress.
You may want to consider a breast reduction if you have experienced:
Breast reduction creates a more proportionate figure by reducing breast size and enhancing your appearance. When your oversized breasts are no longer holding you back, you may discover a wealth of new fitness and fashion options. These newfound abilities further enhance your figure, improving your health, well-being, and overall quality of life.
Watch: Do You Lose Weight After a Breast Reduction?
Why Choose Dr. John Zinsser as My Richmond, VA, Breast Reduction Surgeon?
Choosing the right surgeon is one of the most important factors in any successful plastic surgery. ABPS board-certified plastic surgeon Dr. John Zinsser has over 20 years of extensive training and experience. This experience, along with his supreme dedication to patient health, safety, and commitment to outstanding results, makes Dr. Zinsser your choice as the best breast reduction surgeon in Williamsburg, VA. 
Dr. Zinsser's chief priority is to provide exceptional individualized care to help patients gain confidence and renewed self-image through plastic surgery. At Zinsser Plastic Surgery, our goal is to help you feel comfortable in your skin — you will never feel pressured. Instead, you will feel comfortable, educated, and empowered to make decisions about your body.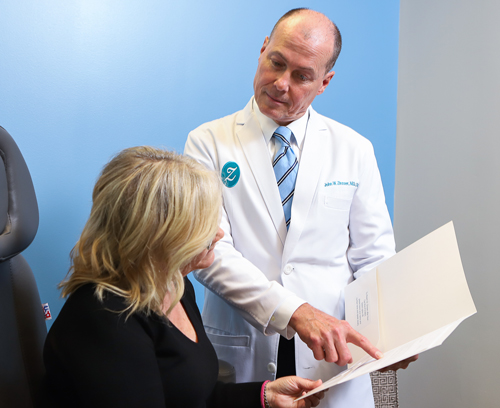 The Results You Desire
The Respect You Deserve
Zinsser Plastic Surgery provides a level of patient care that is unparalleled. We blend compassion, skill and the latest surgical techniques to create a signature experience that is unique in our field.
Dr. John Zinsser believes the keys to providing world-class results lie in a completely individualized approach to patient care. At Zinsser Plastic Surgery, you will be treated as the unique individual you are, and your treatment plan will be customized specifically for you. 
Your Breast Reduction Consultation
During your consultation, Dr. Zinsser will determine if you are a good candidate for breast reduction by taking time to understand your aesthetic and medical concerns. He will evaluate your physical condition, review your medical history, and explain your treatment options.
Before  determining your procedural plan, Dr. Zinsser will examine many aspects of your breasts, including:
What Can I Expect During a Breast Reduction Procedure?
Dr. Zinsser and his expert staff customize each breast reduction in Richmond for each patient's needs. Here are some general steps you can expect during the procedure.
After your team greets you and checks you in, Dr. Zinsser will perform surgical markings, then ensure you are comfortable before entering the operating room. Once you are safely under anesthesia, Dr. Zinsser will begin your breast reduction.
Breast Reduction Procedure
According to your procedural plan, Dr. Zinsser will perform the appropriate incision for your anatomy. As necessary, he will reposition the nipples and reduce the areolas' perimeter. For large, pendulous breasts, he may remove the nipple-areola complex and transplant it to a more favorable position. 
After reducing, lifting, and reshaping your breast tissue, Dr. Zinsser places sutures within the tissue to support the smaller breasts.
Breast Reduction Aftercare
Following surgery, the dressings can be changed with a shower beginning on day 3, and the surgical garment is worn for 6 weeks.
As with any plastic surgery, following post-procedural instructions regarding limitations for physical activities, cleansing, and sun exposure is fundamental to ensuring optimal results from the best breast reduction in Richmond, VA. 
Schedule Your Breast Reduction in Richmond Consultation Today!
Bring balance to your figure and rediscover your confidence with the best breast reduction in Richmond! With Zinsser Plastic Surgery, you get the long-lasting, natural-looking results you desire with the respect you deserve! 
Partner with the one of best breast reduction surgeons in the Richmond, Fredericksburg, and Williamsburg areas! Contact Zinsser Plastic Surgery at (804) 474-9805 or complete our online form to schedule your breast reduction consultation today.
The Results You Desire...Today!
Richmond, VA, Breast Reduction FAQs