Gynecomastia Surgery in Richmond With Dr. John Zinsser
Gynecomastia is a condition responsible for excess male breast tissue, and it can affect adolescent and middle-aged men. The physical aspects of gynecomastia can make many men self-conscious or become embarrassed over the appearance of their chests. However, with male breast reduction surgery, you can achieve a more masculine-looking chest and regain your self-image and confidence.
With unparalleled skills and sincere compassion, Dr. John Zinsser is a male breast reduction surgeon who takes time to understand your needs. Over 20 years of unmatched experience and consistent high-quality results make Dr. Zinsser your choice as the best gynecomastia surgeon in Richmond.
Restoring your masculine appearance with the best male breast reduction surgery in Fredericksburg, VA, is easier than ever! Contact Zinsser Plastic Surgery to schedule your consultation at (804) 474-9805 or complete our online form today.
What Can a Gynecomastia Surgery Accomplish?
Gynecomastia can cause excess breast tissue to develop in adolescent and middle-aged men, resulting in enlarged or feminine-looking breasts. Hormonal changes, weight gain and obesity, or the use of specific medications may cause the development of gynecomastia. 
Male breast reduction surgery is a procedure to reduce breast size, producing a flatter and more masculine-looking chest contour, which aims to minimize the appearance of excess: 
Localized fat affecting one or both breasts

Glandular tissue development

Breast skin
Along with physical effects, gynecomastia can also cause emotional distress and negatively affect confidence and self-image. Gynecomastia can often be a source of shame or embarrassment for men, hindering the ability to enjoy intimacy or physical activities. 
Is Gynecomastia Surgery Right for Me?
By reducing the size of male breasts, the benefits of gynecomastia treatment are physical and psychological. From a physical perspective, male breast reduction can:
Reduce the appearance of a feminine-looking chest

Allow a more defined appearance of pectoral muscles

Restore a more masculine appearance

Offer an improved appearance in fitted shirts
Psychologically, male breast reduction surgery can help restore a sense of confidence and masculinity. 
With the utmost surgical skills and sincere patient commitment, Dr. Zinsser can help you achieve a better-defined chest contour through male breast reduction surgery. No matter your body rejuvenation aims, Dr. Zinsser takes the time to understand your goals and recommend the procedures that will allow you to reach them
Overall, candidates for male breast reduction include patients who are looking to correct gynecomastia and improve their appearance and self-esteem. 
Dr. Zinsser suggests male breast reduction candidates in Richmond should:
During your consultation, Dr. Zinsser will discuss your goals and concerns, review your medical history, and consider all treatment options. If you are a good candidate for gynecomastia surgery in Richmond, VA, Dr. Zinsser will develop a procedural plan unique to your aesthetic goals.
Why Choose Dr. Zinsser as My Richmond, VA, Gynecomastia Surgery Provider?
Your choice of surgeon is an essential factor in any successful plastic surgery. ABPS board-certified plastic surgeon Dr. John Zinsser has over 20 years of extensive training and experience. This experience, plus his dedication to patient health, safety, and commitment to outstanding results, makes Dr. Zinsser your choice as the best male breast reduction surgeon in Williamsburg, VA. 
Dr. Zinsser's main objective is to provide exceptional, individualized care to help patients gain confidence and renewed self-image through plastic surgery. At Zinsser Plastic Surgery, our goal is to help make you comfortable in your skin, so you will never feel pressured. Instead, you will feel educated and empowered to make decisions about your body.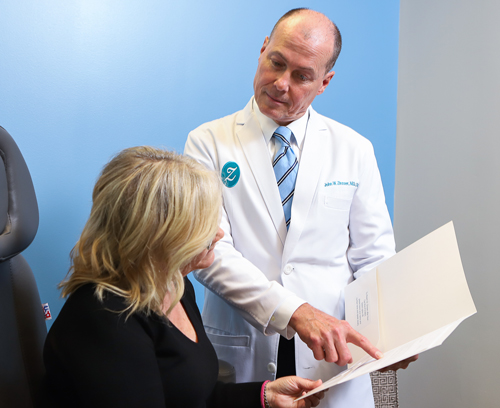 The Results You Desire
The Respect You Deserve
Zinsser Plastic Surgery provides a level of patient care that is unparalleled. We blend compassion, skill and the latest surgical techniques to create a signature experience that is unique in our field.
Dr. John Zinsser believes the keys to providing world-class results lie in a completely individualized approach to patient care. At Zinsser Plastic Surgery, you will be treated as the unique individual you are, and your treatment plan will be customized specifically for you. 
What Can I Expect During a Gynecomastia Surgery Procedure?
Dr. Zinsser and his expert staff customize every gynecomastia surgery procedure in Richmond for each patient's needs. Here are some general steps you can expect.
After our team greets you and checks you in, Dr. Zinsser will evaluate you and make surgical markings. He will ensure you are comfortable before entering the operating room. Once you are safely resting under anesthesia, Dr. Zinsser will begin your male breast reduction surgery.
Gynecomastia Surgery Procedure
According to your procedural plan, Dr. Zinsser will begin your male breast reduction procedure with the appropriate approach for your anatomy.
In some cases, gynecomastia is the result of excess fatty tissue. In these cases, Dr. Zinsser may use various liposuction techniques. It requires several small incisions to insert a liposuction cannula to loosen the excess fat and extract it from the body.
In cases when gynecomastia results from glandular breast tissue or excess skin, Dr. Zinsser uses excision techniques. At this time, he may reduce the areola and reposition the nipple to create a more natural male contour. 
Correcting some gynecomastia cases requires a combination of techniques.
Gynecomastia Surgery Aftercare
Following your male breast reduction surgery, you will have dressings or bandages covering your chest. You may also need to wear a custom-fitted elastic bandage or support garment to minimize swelling and support your new chest contour as it heals. In some cases, drain tubes are used for a few days to help with healing after surgery.
During your recovery, it is critical to avoid subjecting incisions to any excessive force, swelling, abrasion, or motion. Most patients may resume their normal activities four to six weeks following surgery.
As with any plastic surgery, following post-procedural instructions regarding limiting physical activities, cleansing, and avoiding sun exposure is fundamental to ensuring optimal results from the best male breast reduction surgery in Richmond, VA.
Schedule Your Gynecomastia Surgery in Richmond Consultation
Restore your more masculine appearance and boost your confidence with the best gynecomastia surgery in Richmond. With Zinsser Plastic Surgery, you get the long-lasting, natural-looking results you desire with the respect you deserve. 
Partner with the one of best male breast reduction surgeons in the Richmond, Fredericksburg, and Williamsburg areas! Contact Zinsser Plastic Surgery at (804) 474-9805 or complete our online form to schedule your gynecomastia surgery consultation today.
The Results You Desire...Today!
Richmond, VA, Gynecomastia Surgery FAQs
Due to the customizable nature of gynecomastia, each male breast reduction surgery cost in Richmond depends on your specific needs. During your consultation, Dr. Zinsser will estimate your gynecomastia surgery cost in Richmond. 
You will be under anesthesia during your male breast reduction, so you should not feel any discomfort. You may receive a prescription for pain medication to take following your surgery. Be sure to address all pain concerns with Dr. Zinsser beforehand.
Immediately following your male breast reduction procedure, you will notice a significant improvement. However, you may also experience swelling and bruising that obscures your new chest contour. As your body heals, your results will continue improving. It may take three to six months to achieve your eventual results. 
The results from gynecomastia surgery are typically permanent. However, if your gynecomastia developed because of weight gain, you must remain at your stable weight to maintain results. If your gynecomastia resulted from prescription medications or drugs, including steroids, you should avoid them to ensure your results.