Breast Augmentation in Richmond, VA
Breast augmentation, or mammaplasty, is a plastic surgery procedure designed to enhance the breasts' size, shape, and volume. The procedure is a tremendous help to women who are displeased with the appearance of their naturally small breasts or those who have lost breast volume due to weight loss, pregnancy, or aging.
If you are self-conscious about the size, shape, or symmetry of your breasts, call Zinsser Plastic Surgery today at (804) 464-7615 to schedule a confidential consultation for a Richmond, VA, breast augmentation surgery with board-certified plastic surgeon Dr. John Zinsser. Dr. Zinsser's skill and patient-first approach make him one of the best breast augmentation surgeons in Richmond. We proudly serve patients from across Virginia, including Midlothian and Petersburg.
On this page, we discuss a variety of breast augmentation topics, including:
Watch: How is Breast Augmentation Done?
Benefits of Breast Augmentation
Achieving confidence in the appearance of your breasts involves more than just size; it includes shape, position, fullness, and balance. During your initial consultation, Dr. Zinsser will discuss all of your concerns and offer recommendations based on your unique anatomy and goals. He will take time to thoroughly explain all of your options and help you make an informed decision that meets your budget, lifestyle, and expected outcome.
Breast augmentation provides a number of aesthetic and practical benefits to patients, including:
Improved shape of the breast

More attractive cleavage

Restoration of diminished breast volume due to aging, weight loss, or pregnancy

Correction of breast asymmetry

Improved breast projection

Improved appearance in your clothes and bathing suit

Expanded wardrobe options
Ideal Candidates for Breast Augmentation Surgery
If you are unhappy with the size or shape of your breasts, breast augmentation surgery can provide a more youthful, balanced look. You may be a good candidate for breast augmentation if you:
The list above is meant to provide a general overview of candidacy considerations but is by no means intended to serve as a substitute for meeting personally with Dr. Zinsser. The best way to determine if breast enlargement or another breast surgery procedure is right for you is to visit Zinsser Plastic Surgery for an initial confidential consultation with our board-certified plastic surgeon. During this friendly and informative one-on-one interaction, Dr. Zinsser will review your medical history, assess your physical condition and goals and determine your candidacy for the procedure.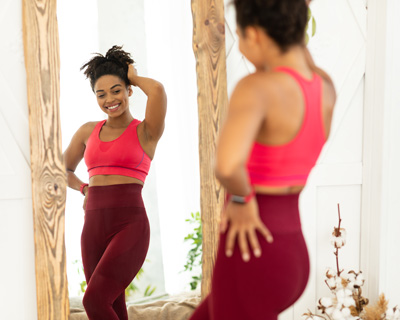 Over 25 years of Experience
Whether treating patients in their 20's or 70's, Dr. Zinsser believes the key to providing world-class results is an individualized approach to patient care.
Breast Augmentation Customized Just for You
Dr. Zinsser never takes a one-size-fits-all approach to any procedure or treatment. Instead, he listens to your goals, evaluates your frame and measurements, and helps you find a solution that is tailored specifically to your body and needs.
Your consultation is the first step in achieving an outcome that is balanced, beautiful, and uniquely you. During this important meeting with Dr. Zinsser, you will discuss all of your breast augmentation options, which include:
Breast implant size

Breast implant shape

Breast implant material

Breast implant placement

Incision location
Dr. Zinsser is committed to guiding his patients toward their ideal aesthetic solution with honesty and integrity. He will explain the core aspects of every breast augmentation option clearly and carefully, answer your questions, and address your concerns to help you make an informed decision.
Watch: How Long Do Breast Implants Last?
In some cases, breast augmentation alone may not be able to achieve your desired outcome. For example, if your breasts sag significantly, a breast lift or breast reduction may be necessary to restore your youthful perkiness and provide the natural, lifted look that compliments your figure.
One of the first decisions you will make when planning your breast enlargement surgery is the type of breast implant placed in your procedure. Each option offers unique benefits, and Dr. Zinsser will work with you to determine which breast implant is best suited to match your goals, budget, and lifestyle.
Dr. Zinsser does not offer textured breast implants, which have been linked to breast implant-associated anaplastic large cell lymphoma (BIA-ALCL), a rare but dangerous form of cancer. If you currently have textured breast implants that were placed in a previous procedure and are concerned about BIA-ALCL, Dr. Zinsser is happy to discuss your breast revision and implant replacement options.
Depending on your individual needs and preferences, Dr. Zinsser may recommend:
FDA-approved for breast augmentation in women 18 years of age and older, saline breast implants consist of silicone shells filled with a safe saline solution.
FDA-approved for breast augmentation in women 22 years of age and older, this type of breast implant is filled with a natural-feeling silicone gel.
A type of silicone implant, a gummy bear implant is made of a cohesive gel that, like its namesake candy, will hold its shape, even when cut in half.
The size of breast implant you choose should reflect both your lifestyle and aesthetic goals. When making this crucial decision, it is also essential to consider certain long-term factors, such as aging, comfort, and health. The size of your breast implants will affect your figure, your bra and clothing choices, and your self-image. Properly-placed breast implants that are balanced and proportionate to your height and body type are critical to achieving elegant and natural-looking results.
Some of the primary considerations involved in the sizing process include:
Volume
Profile
Dimensions
Thickness of breast tissue
Volume
Breast implants are measured in cubic centimeters (cc), not cup size. You may have a desired cup size in mind, but physically trying on sizers and seeing how they look is ultimately more important to making the right choice.
Profile
Dimensions
Thickness of breast tissue
No matter what breast size you would like to achieve, it is essential to have realistic goals. Dr. Zinsser will discuss all of the factors involved in choosing your breast implant size. Additionally, you will be able to physically try on several real implant sizers to get an idea of how your results will look. While a helpful step, sizers only offer a "ballpark" estimate of your outcome; once an implant is placed beneath the muscle, it looks smaller. It's usually a good idea to go up one size from the sizer you like. Dr. Zinsser will guide you through every step of the sizing process and help you find the breast implant size that is right for you.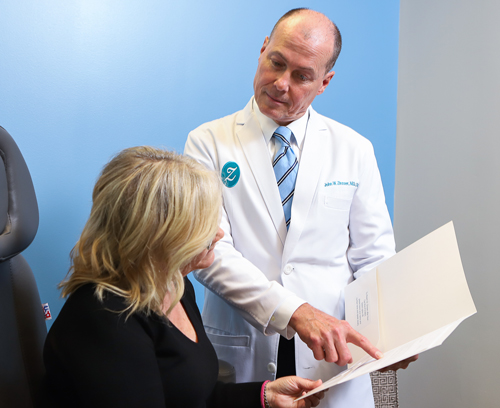 The Results You Desire
The Respect You Deserve
Zinsser Plastic Surgery provides a level of patient care that is unparalleled. We blend compassion, skill and the latest surgical techniques to create a signature experience that is unique in our field.
Dr. John Zinsser believes the keys to providing world-class results lie in a completely individualized approach to patient care. At Zinsser Plastic Surgery, you will be treated as the unique individual you are, and your treatment plan will be customized specifically for you. 
Incision Options for Breast Enlargement
Discreet, inconspicuous incision placement plays a significant role in ensuring your plastic surgery results are beautiful and natural-looking. Dr. Zinsser understands the importance of a well-concealed incision and offers the following options:
Inframammary incision:

Along the fold beneath the breast

Peri-areolar incision:

Around the areola
Whichever incision option is utilized, you will experience minimal visible scarring. Dr. Zinsser will explain your options and which choice is most appropriate for your procedure, based on your anatomy and type of preferred implant.
Breast Implant Placement Options
Breast implants are placed in a "pocket" that is surgically created. Implant placement makes a significant impact on the outcome of your breast augmentation. A variety of factors, including your anatomy, lifestyle, and desired look, are considered when determining which placement option is ideal for you. The two breast implant placement options are:
Submuscular –

behind the muscle: For this option, the breast implant is placed behind the muscle wall. This method offers more implant support and a more subtle, natural look.

Subglandular –

in front of the muscle: In this method, the breast implant is placed behind the breast tissue and in front of the muscle. This is the preferred option for some bodybuilders and delivers more dramatic results.
Dr. Zinsser will determine the appropriate placement for your breast implants based on your body size and type, existing breast tissue and desired results.
Breast Implant Removal & Breast Augmentation Revision
There are a number of reasons why you may want a revision of your breast augmentation. Perhaps your breast implants have shifted position or size, or you want to replace the type or volume of implant you chose years ago. Revision surgery often involves implant replacement and reshaping the breast tissue itself and may require a breast lift in order to fully achieve a youthful, natural look.
Whatever your reason for breast implant removal or breast augmentation revision, board-certified plastic surgeon Dr. John Zinsser has the experience, knowledge, and skill to help you achieve your desired outcome. He will work closely with you to understand your goals and explain all of your treatment options.
Breast Augmentation Recovery
You will be taken to a recovery area immediately following your procedure, where we will closely monitor you while you regain awareness. To minimize swelling and support your new breasts as they heal, we will wrap your breasts in gauze dressings and a special support bra. Typically, about an hour after surgery, you will be released into the care of a friend or family member with Dr. Zinsser's approval.
Before leaving for home, Dr. Zinsser will provide you with specific post-operative instructions and schedule a follow-up appointment. Follow your aftercare instructions carefully to ensure a quick and effective recuperation. Dr. Zinsser will routinely meet with you after surgery to monitor your recovery and make sure your healing is going as expected. You will have his personal cell phone number and are welcome to contact him or his office at any time with questions or concerns.
You should take it very easy the first few days after surgery and get as much rest as possible. Depending on the physical demands of your job, you should be able to return to work after the first week. Avoid strenuous exercise for four weeks after surgery. After a few months, your scars will begin to fade, and your swelling should be gone. Your results will continue to improve over the course of the remaining year.
Breast Augmentation Cost in Richmond, VA
Due to the personalized nature of the procedure, breast implant cost in Richmond will vary depending on the patient's goals and the steps needed to achieve them. For this reason, we provide pricing information after you have been evaluated by and spoken with Dr. Zinsser. We will give you a quote for services after your initial consultation.
Schedule Richmond Breast Augmentation Consultation Today!
You deserve the beautiful breasts and balanced frame you desire. Whether performed as a stand-alone procedure or as part of a complete mommy makeover, breast augmentation can enlarge your breasts, improve your figure and boost your self-confidence.
Contact Zinsser Plastic Surgery today online or call (804) 464-7615 to schedule an initial breast augmentation consultation with board-certified plastic surgeon Dr. John Zinsser. Our friendly, state-of-the-art office welcomes patients from throughout Virginia, including Richmond, Midlothian, and Petersburg.
The Results You Desire...Today!
Richmond, VA Breast Augmentation FAQs with Dr. Zinsser
Dr. Zinsser has been doing breast augmentation for almost 25 years and has hundreds of happy patients who have successfully undergone breast augmentation. In addition, with the attention to detail and dedication to customer service at Zinsser Plastic Surgery, our patient share with us how positive their experience was at having Dr. Zinsser perform their augmentation surgery.
My philosophy on breast augmentation is that it is a great procedure to help women who feel they have always been small from a breast standpoint and want improved balance and symmetry, and improved body image and confidence. For women who have had children, augmentation helps restore pre-pregnancy volume and tone.
When selecting a breast augmentation surgeon, make sure you can see examples of their work, and even ask about talking to a previous patient. In addition, you need to find a surgeon and a practice where you have a good feeling about how they are going to provide the surgical service, but also how they treat you AFTER the surgery.
Breast Augmentation Pre-Op
Good candidates are healthy women who want added volume for small breasts or to restore volume lost from pregnancy and breastfeeding.
It is helpful to look at before and after pictures of other women who have had augmentation, which helps give an idea of what her goals are.
Get all your prescriptions in advance and do things like shopping and house chores done before your surgery day so that you have a few weeks of just recovering.
Breast Augmentation Post-Op