Your face is the first thing that people notice when they look at you. So, many men and women want to make sure that they look their best. Dr. John Zinsser is a board-certified plastic surgeon who has the skill and experience to enhance your facial features while still retaining your natural unique character.
If you are interested in facial plastic surgery to look more youthful or proportionate, schedule your confidential consultation with Dr. Zinsser by calling (804) 464-7615 today. Zinsser Plastic Surgery serves clients in Richmond, Fredericksburg and Williamsburg, Virginia.
A facelift will smooth and tighten sagging, wrinkled tissue and skin to restore youthful definition to the face and neck. When performed by experienced board-certified plastic surgeon Dr. John Zinsser, a facelift won't give you a tight look or make you look like someone else. instead, it will restore a natural, youthful appearance to your features. Facelifts are commonly performed to resolve a variety of facial aging concerns.
Neck lifts are surgical procedures that correct the signs of aging, sagging jowls and sagging skin in the neck, and skin wrinkles in the neck. Dr. Zinsser tailors every neck lift procedure to address the specific needs of his patients. A neck lift can correct double chin, skin wrinkles in the neck, Neck lifts are often combined with other facial procedures to achieve optimal rejuvenation. 
Also known as eyelid surgery or an eye lift, blepharoplasty may be performed on the top eyelids, bottom eyelids or both eyelids to remove excess skin, reduce sagging and improve the appearance of the eyes. Brow lift surgery reduces forehead wrinkles and elevates heavy brows to a more youthful position to create a smoother, younger look. 
Rhinoplasty is a fully customized surgical face procedure that improves the appearance of your nose in addition to correcting certain breathing obstructions. With rhinoplasty, Dr. Zinsser can address a wide range of issues related to the nose, such as correct a hooked nose, smooth the bridge of the nose, or reduce the size of the nose.
Also known as Facial Feminization Surgery (FFS), transgender facial surgery modifies facial characteristics to give the face a softer, traditionally feminine appearance. 
I have been pretty blown away with my experience with Zinsser Plastic Surgery. Not only did my surgery turned out WAY better than I ever even managed and I was thrilled to be treated so great every step of the way by not only Dr. Zinsser but his entire staff.
Since the very first appointment everyone has been so helpful and friendly. Dr. Zinsser explained all that we would do for my surgery in such an easy to understand fashion making everything less stressful. I'm beyond happy with choosing them.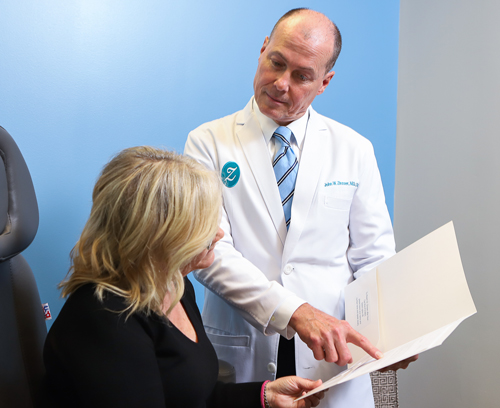 The Results You Desire
The Respect You Deserve
Zinsser Plastic Surgery provides a level of patient care that is unparalleled. We blend compassion, skill and the latest surgical techniques to create a signature experience that is unique in our field.
Dr. John Zinsser believes the keys to providing world-class results lie in a completely individualized approach to patient care. At Zinsser Plastic Surgery, you will be treated as the unique individual you are, and your treatment plan will be customized specifically for you.