HydraFacial in Richmond With Zinsser Plastic Surgery
HydraFacial is a popular treatment among patients with all skin types. With no downtime, this gentle, non-invasive facial procedure cleans, exfoliates, and hydrates your skin for a smoother, youthful-looking appearance, helping you look and feel your best.
With unparalleled skills, sincere compassion, and consistently high-quality results, Dr. John Zinsser and the expert staff at Zinsser Plastic Surgery are your choice as the best HydraFacial providers in Richmond, VA.
Refreshing your skin's appearance with the best HydraFacial in Fredericksburg, VA, is easier than ever! Contact Zinsser Plastic Surgery to schedule your consultation at (804) 474-9805 or complete our online form today.
What Is HydraFacial in Richmond, VA?
HydraFacial
HydraFacial is a medical-grade resurfacing treatment that hydrates your skin and detoxifies your pores. A HydraFacial can reduce fine lines and wrinkles, increase skin firmness, and even out your skin's tone and texture.
The patented HydraFacial technology involves a four-step process including:
Cleansing
Exfoliating with a combination of glycolic and salicylic acids
Extracting with a HydraPeel Tip device
Hydrating serums
Good for every skin type and texture, HydraFacial can address:
Fine lines and wrinkles
Elasticity and firmness
Even tone and vibrancy
Skin texture
Hyperpigmentation
Oily and congested skin
Enlarged pores
Is A HydraFacial right for Me?
With no downtime, gentle HydraFacial services refresh your skin for a brighter, more youthful-looking appearance regardless of age, skin type, or tone. Far gentler than chemical peels or microdermabrasion, HydraFacial leaves your skin feeling hydrated and smoother with immediate visible results.
They can treat several skin conditions, including:
Acne
Wrinkles and fine lines
Hyperpigmentation
Sun damage
Improved texture
Most patients can expect optimal results following a series of treatments spaced every four to six weeks. While HydraFacials are safe for most patients, those who have active skin inflammation or pregnant people should not have these procedures.
No matter your skin care aims, Dr. Zinsser and his expert team take the time to understand your goals and only recommend procedures that will help you achieve them.
Overall, candidates for HydraFacial treatments include patients who are looking to enhance the health and appearance of their skin.
Why Choose Zinsser Plastic Surgery as My Richmond HydraFacial Provider?
Choosing the right provider is one of the most critical factors in any successful plastic surgery procedure. With over 20 years of extensive training and experience, ABPS board-certified plastic surgeon Dr. John Zinsser and his expert staff offer sincere dedication to patient health, safety, and outstanding results for all patients. This devotion makes Zinsser Plastic Surgery as your choice for the best HydraFacial providers in Williamsburg, VA.
Our primary objective is to provide exceptional, individualized care to help patients gain confidence and renewed self-image through cosmetic medicine. At Zinsser Plastic Surgery, you will feel comfortable, educated, and empowered to make decisions about your body and procedures.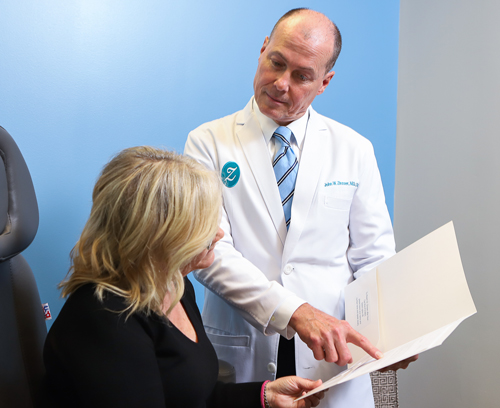 The Results You Desire
The Respect You Deserve
Zinsser Plastic Surgery provides a level of patient care that is unparalleled. We blend compassion, skill and the latest surgical techniques to create a signature experience that is unique in our field.
Dr. John Zinsser believes the keys to providing world-class results lie in a completely individualized approach to patient care. At Zinsser Plastic Surgery, you will be treated as the unique individual you are, and your treatment plan will be customized specifically for you. 
What Can I Expect During a HydraFacial ?
Dr. Zinsser and his expert staff customize every HydraFacial in Richmond. Here are some general steps you can expect during the procedure.
After our friendly team greets you and checks you in, they will ensure you are comfortable before beginning your HydraFacial procedure.
You should expect your HydraFacial to last between 30 minutes to one hour. The device uses a vortex pressure and cleansing solution to clean dirt, oil, dead skin cells, and other debris from pores without traditional extraction.  No downtime should be expected.
HydraFacials have no downtime, and you can expect immediately noticeable results. After your procedure, your skin will feel smoother and look fresher. You may expect to see redness that will usually subside within an hour.
While there are no specific care instructions following your treatment, you should forego makeup for the remainder of the day and let your skin rest and absorb the benefits of the serums applied during the facial. You may resume your normal skin care routine the following day.
How Soon Will I See My Richmond HydraFacial Results?
With no downtime, you will notice the visible improvements to your skin immediately following your HydraFacial. You will experience the best results by getting a HydraFacial every four to six weeks.
As with any non-surgical procedure, following instructions regarding physical activities, cleansing, and avoiding sun exposure is fundamental to ensuring optimal results from the best HydraFacial in Richmond, VA.  Schedule Your HydraFacial Consultation Today!
Refresh your skin and restore your youthful glow by partnering with the best HydraFacial providers in Richmond! At Zinsser Plastic Surgery, you get the natural-looking results you desire with the respect you deserve. Contact us at (804) 474-9805 or complete our online form to schedule your consultation today.
Richmond, VA HydraFacial Procedures FAQs
HydraFacials are customizable for each patient's needs. Your total price tag will depend on your desired personalization level. During your consultation, Dr. Zinsser's team will estimate your HydraFacial cost in Richmond VA.
HydraFacials are well-tolerated, safe, and gentle enough for all patients, including those with sensitive skin. However, be sure to address all pain concerns with Dr. Zinsser and his expert team before your procedure.
The Results You Desire...Today!