MTF Transgender Top Surgery in Richmond, VA
The ultimate goal of transfeminine chest contouring is to help you feel more comfortable and confident in your own body. By aligning your internal sense of self with your external physical characteristics, breast augmentation surgery can provide you with an elegant, natural-looking figure and an improved level of self-esteem.
In the procedure, Dr. John Zinsser will create a beautiful, feminine chest contour with the placement of saline or silicone implants. During your initial consultation, Dr. Zinsser will work closely with you to understand your unique goals. He will answer your questions, address your concerns and customize a treatment plan tailored specifically for you.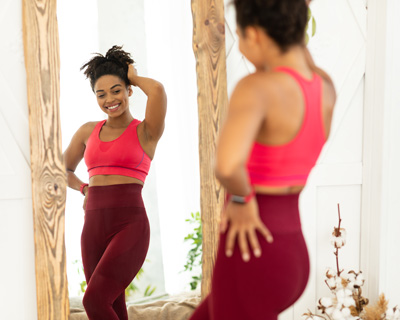 Over 25 years of Experience
Whether treating patients in their 20's or 70's, Dr. Zinsser believes the key to providing world-class results is an individualized approach to patient care.
FTM Transmasculine Top Surgery
If you are a transgender man or non-binary individual who wants to attain a more masculine or less feminine look by reducing the size of your breasts, transmasculine top surgery may be your ideal solution. In addition to removing breast tissue and excess skin, the procedure also often involves the repositioning and resizing of the nipples.
For so many of our patients, masculization surgery achieves more than just a flatter chest and a more masculine appearance; it allows them to live more authentically, with improved self-esteem and a body image that is more aligned with their inner selves. During your initial consultation, Dr. Zinsser will discuss all of your options and explain what you can realistically expect from your top surgery results.
Watch: Dr. Zinsser Discusses Transgender Procedures at Zinsser Plastic Surgery
Richmond, VA Transgender Patient Experiences
"I'm a trans nonbinary person who just got top surgery with Dr. Zinsser 6 days ago. When I say that I could not imagine more perfect results its completely true, but that honestly goes to my entire experience with him and his staff. They are trans educated, led me to getting insurance coverage despite mental illness, genuinely kind, responsive, took me to a hospital that was FANTASTIC the day of my operation, more affordable than other surgeons in the area, and likely hit all of the boxes not specifically mentioned yet. I cannot thank them enough for giving my dream chest and treating me with such kindness through the entire process."
At Zinsser Plastic Surgery, we strive to provide the most compassionate and highly personalized care available to transitioning women and men. Through meticulous planning, exceptional execution and a focus on safety, we have helped many patients obtain the bodies and self-confidence they have been seeking for years.
Dr. John Zinsser is a board-certified plastic surgeon, certified by the American Board of Plastic Surgery. While any physician with general surgery training can offer cosmetic surgery procedures and refer to themselves as a "cosmetic surgeon" only those certified by the American Board of Plastic Surgeons have demonstrated their knowledge, skill and proven history of exceptional results through rigorous testing and reviews of past performance. When you choose Dr. Zinsser, you can rest assured that you are in the capable hands of an experienced and highly-trained plastic surgeon.
Every member of our staff is honored to play a role in your transformative journey and we take personal pride in helping to produce an outward reflection of your inner beauty with dignity, respect, safety and comfort.
To learn more about how board-certified plastic surgeon Dr. John Zinsser can give external shape to your inner form, contact us today online or at (804) 464-7615 to schedule your initial confidential consultation. Zinsser Plastic Surgery welcomes patients from Richmond, Midlothian, Petersburg and other areas across Virginia.
The Results You Desire...Today!
MTF Transgender Top Surgery FAQs