Otoplasty | Ear Surgery in Richmond, VA
Prominent ears that stick out from the head can become a target for teasing and ridicule, leading to embarrassment, social anxiety, and self-esteem issues. While anyone can feel uncomfortable about their ears' size, shape, or position, children may be especially sensitive about it if they become victimized by bullies.
Otoplasty is a straightforward procedure that can resize or reshape ears that are misshapen due to trauma or birth defects. In an ear pinning surgery, a surgeon recreates the ears' natural folds to position them closer to the scalp.
With unparalleled skills, sincere compassion, and consistent high-quality results, Dr. John Zinsser and the expert staff at Zinsser Plastic Surgery are your choice as one of the best ear pinning surgeons in Richmond, VA.
To learn more about working with one of the best otoplasty surgeons in Richmond, VA, contact Zinsser Plastic Surgery to schedule your consultation at (804) 474-9805 or complete our online form today.
Ear pinning surgery aims to bring more balance to the face while reshaping protruding or malformed ears. This procedure is one of only a few that qualified plastic surgeons routinely perform on children to shield them from the adverse effects of bullying. Typically, children's ears finish growing and stabilizing by around age 5. 
Otoplasty can also address:
Overly large ears, or macrotia
Protruding ears on one or both sides
Adult dissatisfaction with previous ear surgery
Structural defects
Ears disfigured by injury
Earlobe reduction
Earlobe repair surgery for people with holes or tears from wearing gauges or heavy earrings
What to Expect During and After Otoplasty Surgery
Dr. Zinsser and his team can use local or general anesthesia to perform this procedure. We recommend general anesthesia for children.
To correct protruding ears, Dr. Zinsser will use surgical techniques to create or increase the fold on the inside of the ear and reduce the appearance of enlarged conchal cartilage – the external ear's largest and deepest concave area. While ear surgery providers immediate results when addressing protruding ears, you must keep your or your child's ears covered by supportive dressings and wraps during the initial healing phases.
Typically, Dr. Zinsser makes otoplasty incisions on the backs of each ear. If incisions on the front of the ears are necessary, Dr. Zinsser takes care to conceal them well within the natural folds. Internal sutures secure the newly shaped cartilage in place for a natural appearance.
Discomfort is the most typical side effect of ear pinning surgery, which you can address with pain medication. Many patients also report experiencing an itchy feeling beneath their bandages. However, it is critical to leave these dressings intact until Dr. Zinsser clears you to remove them, since they protect the new ear profile and support the ears' improved position during healing. Taking your bandages off too soon may reverse the results, potentially requiring a secondary surgery to address failed corrections.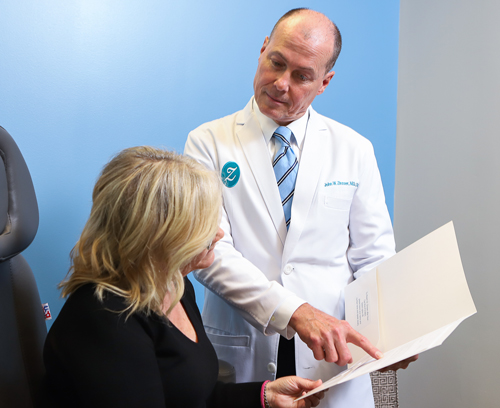 The Results You Desire
The Respect You Deserve
Zinsser Plastic Surgery provides a level of patient care that is unparalleled. We blend compassion, skill and the latest surgical techniques to create a signature experience that is unique in our field.
Whether treating patients in their 20s or 70s, Dr. John Zinsser believes the keys to providing world-class results lie in a completely individualized approach to patient care. At Zinsser Plastic Surgery, you will be treated as the unique individual you are, and your treatment plan will be customized specifically for you. 
Is Otoplasty Right for Me?
People choose to have otoplasty for many reasons. However, as ear surgery is a uniquely individualized procedure, you should be sure to choose it for yourself rather than to achieve an idealized image due to peer pressure or for social reasons.
Otoplasty can address:
Protruding ears
Ears that are larger or smaller than normal
Abnormally shaped ears due to injury or birth defect
Dissatisfaction with previous ear surgeries
If your ears' appearance troubles you, otoplasty can reposition them to a more natural-looking place on your head to bring a better balance to your facial features.
View our gallery for otoplasty before-and-after photos of Dr. Zinsser's patients.
Am I a Good Candidate for Otoplasty?
Overall, almost anyone who wants to improve their ears' appearance is well-qualified for this procedure. Ear pinning is a uniquely individualized surgery that you should choose for yourself rather than to conform to someone else's opinion.
Children who are good candidates for ear surgery should be:
In good overall health with no medical conditions that impair healing, or untreated chronic ear infections
Over 5 years old, or have ear cartilage that's stable enough for surgery
Cooperative and able to follow instructions
Able to express their feelings or objections about surgery
Adult and teen candidates for ear surgery should:
Be in good overall health with no medical conditions that impair healing
Not be pregnant or breastfeeding
Not smoke or be willing to quit before surgery
Have realistic expectations and a positive outlook
Be ready to closely follow pre- and post-procedural instructions
The above list is a general overview and is not a substitute for a personal meeting with Dr. Zinsser to determine your or your child's candidacy. During your consultation, Dr. Zinsser will discuss why you want to have otoplasty and will review all treatment options to customize a procedural plan to achieve your aesthetic goals.
Why Choose Zinsser Plastic Surgery for Your Richmond Ear Surgery?
Your decision to partner with an experienced provider is an essential factor in any successful plastic surgery procedure. With over 20 years of extensive training, ABPS board-certified plastic surgeon Dr. Zinsser and his expert staff offer sincere dedication to health, safety, and exceptional results for all patients, no matter their chosen procedure. This devotion to patient care should make Zinsser Plastic Surgery your top choice as one of the best Richmond, VA, ear pinning surgeons.
We prioritize providing exceptional attention to detail that allows you to experience renewed confidence and self-esteem. At Zinsser Plastic Surgery, we empower every patient to make wise decisions about their appearance.
How Soon Will I See My Richmond Ear Surgery Results?
During otoplasty recovery, you will experience mild swelling, but you'll have bandages wrapped around your head to gently compress your ears. After a few days, you'll switch to wearing a lighter head wrap for about three weeks. At this time, you should notice significant improvements to your ears' appearance.
Typically, otoplasty procedures produce permanent changes to the ear profile, so your ears should maintain their new shape, size, and position for the rest of your life.
As with any aesthetic treatment, following Dr. Zinsser's instructions regarding physical activities, bathing, and avoiding sun exposure is fundamental to ensuring optimal results from the best ear pinning surgery in Richmond, VA.
Schedule Your Richmond, VA, Otoplasty Consultation Today
If the appearance of your ears causes you concern or self-confidence issues, partnering with Richmond's best ear pinning surgery providers at Zinsser Plastic Surgery will give you the natural-looking results you desire with the respect you deserve.
Improve the proportions of your ears with experienced otoplasty in Richmond, Fredericksburg, and Williamsburg. Contact Zinsser Plastic Surgery at  (804) 474-9805 or complete our online form to schedule your consultation today.
The Results You Desire...Today!
Richmond, VA, Otoplasty Surgery FAQs
Ear pinning surgery cost in Richmond depends on your specific needs. After your consultation with Dr. Zinsser, his team will provide you with a breakdown of your otoplasty cost in Virginia.
To minimize swelling, you should sleep on your back with your head elevated for at least two weeks. To avoid rolling over in your sleep, you can surround yourself with pillows or sleep in a recliner.
While you can take gentle walks after ear surgery, avoid strenuous workouts for at least two to three weeks or until Dr. Zinsser clears you to.